The Importance of a Google My Business Listing
Have you ever wondered how some businesses get listed in search results at the top without having a solid website? It's their Google My Business Listing. This listing really doesn't care if your site is SEO friendly. It matters that Google sees your business with the same information across the different business directories. Let's walk thru why having a GMB will super-charge your online presence.
NAP for Google My Business
NAP is referred to as Name, Address, and Phone Number. This is critical to get listed and rank high in Google map results. If your site doesn't have consistent business information Google doesn't trust your site. That's an unfortunate fact. There are services that can manage your business information on the internet. I suggest you start using these services since most are under $100 per year.
It makes complete sense for Google to want your information to be the same across the internet. It's similar to the old saying, "where there's smoke there is fire." You keep hearing the same thing from different sources and it starts to make you believe what you are hearing is true. If you hear conflicting stories you investigate to find the truth. Google doesn't investigate. If your information isn't the same across the internet they quit on you. When they quit your results in search suffer severely.
Where Can I Setup My Business with Google?
Google has made it pretty easy to list your business. You can do it online within the app section of your Google account.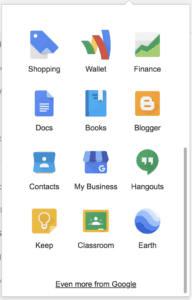 You can also download the Google My Business App directly on your phone to manage your listing. I always recommend doing the things that are important online not on your phone. You will miss important features by setting up your listing on your phone instead of online. You can download the app for your phone here.
Things You Need to do With Your GMB Listing
Correct NAP
The first thing I would recommend doing when you set up your Google Listing is make sure your NAP is correct. Abbreviations in the address does actually matter. For example, if Google decides to abbreviate Ave for Avenue or S for South the rest of your NAP's across the internet need to match the information Google decided to use. It all depends on their mapping. Once you have your NAP in place you can submit your information to many other business directory sites by importing your GMB information. They all connect to Google the same way Podio connects so you don't have to type the same information across hundreds of websites. Give the directories permission to connect and you are all set.
Images
Upload as many pictures as possible. You definitely need to upload your logo for brand recognition. Always post your logo any where you are able.
You also need to post as many secondary pictures as possible. Google will ask for a picture of your location. If you don't include a location picture they will use the street view of your address.
Once you have these 2 taken care of upload previous deals. If you have closed 20 houses over the years I recommend uploading every front elevation picture. Your customers are going to look at pictures to see if their house looks similar to any that you have posted. This is an easy way to get leads.
Posts
Each week you will have a post expire on your Google My Business Listing unless you set it as an event. You can leave an event post for as long as you want without needing to post a new update. I personally post each week because it gives signals on a weekly basis to Google. If you leave one post for months without having supporting post it will appear as a stale listing. Google prefers to have regular updates.
Posts will look like the below image in the search results for your business.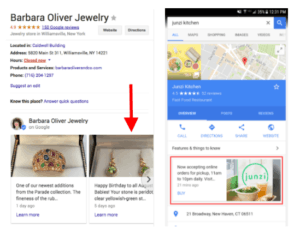 You should always include a link to your site or page you want traffic that is relevant to the post. Learn more is linking to their website in the above image. This is a backlink also. Backlinks are important for SEO.
Messaging
In today's technological world being able to text you directly from your GMB listing is super important. For some reason people have lost the personal interaction with each other and typing has taken over. You need to set up the messaging for your listing. Google will send you a text with a code to verify the number. Once you verify the number you are all set to receive text messages directly from your Google My Business Listing.
Verification of Your GMB Listing
Google will verify your address prior to listing your business. Do Not Use a P.O. Box. You need to use the physical address of the post office if you don't have a physical location. You can use your box number like a suite number by using the physical location of your post office. This works and I do it in my business even though I have a physical location. I use the post office physical address because it won't ever change. I might move my office location for a number of reasons but I don't lose my visibility this way or have to submit my business information again. If you submit your information again to Google and business directories you will suffer in search result rankings. If you clean up old listings to ensure your NAP is accurate your site will rebound but it will take a little while for Google to receive the same NAP from all the directories.
GMB Cheat
A little known way to help Google match your company website and information to the information Google is receiving from all the sites you have your business information listed on is to embed a map. You can't embed any map. You need to embed the map Google gives you by searching for your business. Your GMB listing will have a map in the search results. Click on the map and then share. A popup will appear to give you options on how you want to share the map. Click embed and paste the iframe code onto your site. You cannot post the iframe code as regular text. It won't show the map. You need to paste as raw html. There is a tab on each page that lets you paste this code as html.

The best page to do the map embed is your contact page. This looks natural to Google and you won't be penalized for trying to manipulate their algorithm. Now when Google crawls your site they see their map for your business and it makes it that much easier to tell it's you when they receive information that looks similar to your business. This will lead to faster inclusion in search results and increase your rankings if your site it decent regarding SEO. InvestorCarrot websites tend to be decent for SEO.
Final Thoughts
Being listed online is likely the most important aspect of your business for lead generation. I understand most will say it's sending mailers. That couldn't be further from the truth. You are soliciting owners to sell you their house. When an owner searches for an Investor to buy their house they are looking for you. These are better deals because they are coming to you of their own free will. You also need to use Adwords with a good set up. Luckily for you, EarlToms offers their Adwords Structure and Ads to help wholesalers close more deals.
Google My Business listing is free. It doesn't cost you money to use. It has the most eyes every day than any other site on the internet. You should really help yourself and your business by setting up your GMB listing.
Free Leads
Why Not?
Unless You Like Paying for Leads
Google My Business Listing – Do It – Do It Now!