Description
Adwords Complete Setup for Real Estate Wholesalers
You don't have to struggle with finding an affordable setup for Adwords any longer. EarlToms is sharing with you the exact Adwords set up that we use in our business. Our Adwords Package has been professional written by copyright professionals and setup by Certified Google Adwords Partners. This is the real deal.
Why Would I Want to Use EarlToms Ads or Setup?
It doesn't matter if it's the same setup. You send the same mailers to the same sellers every month. You drive for the same dollars everyone else is driving for also.
The setup is important because unlike the mailers or the driving for dollars you can actually change your message and be unique to sellers. You will receive
2 Ad Campaign
Ads (138 of them to be exact)
Keywords (278 of them to be exact)
Ad Group (63 of them to be exact)
Extensions (Call out and Sitelink)
Optimized to run on a $250 monthly
Ad Campaigns
We currently use 2 Ad Campaigns to target specific users, as well as hunt for new opportunities with search trends. It's setup this way so that ads do not compete against each other. When keywords or ads have a difficult time choosing an ad that will convert you miss opportunities. I'm sure many people think you put an ad online with some keywords and click go. That's not how it works effectively. You can do this but you will spend a lot more money and then wonder why you didn't have any solid leads. If you don't setup the campaign correctly you will catch all of the searches that are not relevant to the reason you are advertising.
For example, if you use the broad keyword Home Buyers Dallas and a single ad you will catch every person trying to sell a house. This is wasting money because you are finding every person wanting to use an agent or people looking to buy a home from an agent. This is where the setup overcomes wasting money by using exact or phrase keywords. That's how we are able to get 63 clicks only spending $250 a month. Proof is below. These are the statistics from the last 30 days of the campaign we use at EarlToms.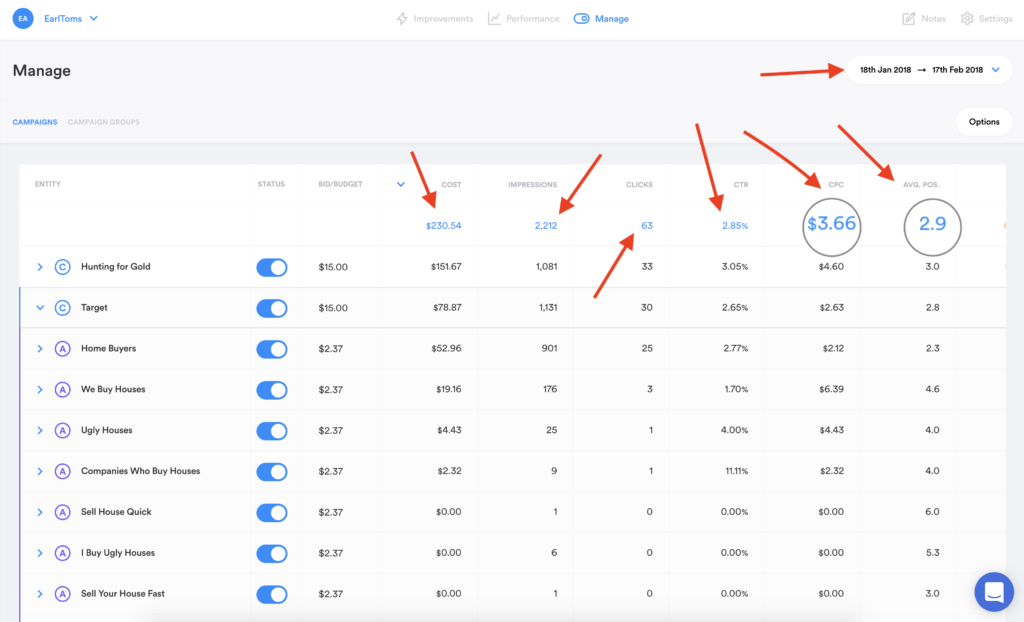 Ads
We use over 100 different ads with our Adwords campaign. In the above image you can see the campaigns (marked with C) and the Ads (marked with A). The suggested bid for these ads is $2.37. To be able to actually get traffic only spending an average of $2.37 per click is the benefit for using the self managed program.
When a company or individual manages your account you typically spend upwards of $25 per click for the same traffic. That's the main reason Adwords isn't affordable to most people. Humans make errors and do not update your campaign on a daily basis. The first time I saw a click that cost me $65, was the last time I allowed it. You can't make any money if your advertising is targeted to ready sellers. Let's image a company was managing your Adwords account and your average cost per click was $10. Using the same stats above that would cost you $630. ($10 x 63 = $630). Our setup cost you $230 for a monthly savings of $400.
Keywords
The keywords EarlToms uses have been optimized for over 6 months. That means every day for 6 months improvements have been made to our account to reduce cost while increasing conversions.
The keywords are setup to find specific users and hunt for opportunities that are relevant. Our campaigns and keywords do not include anything to do with an agent or a retail sale. They include all 3 keyword types, broad, exact, and phrase. If a user searches for We Buy Houses, we have over 10 variation of this keyword to match an ad to the right user.
Extensions
There are a couple of types of extensions currently available however, we only use links and phone numbers. We don't see a point in including the other extensions because they don't convert for Wholesaling Real Estate. We have tested them all.
A sitelink extension are the additional links you see in search results whether an ads or organic search.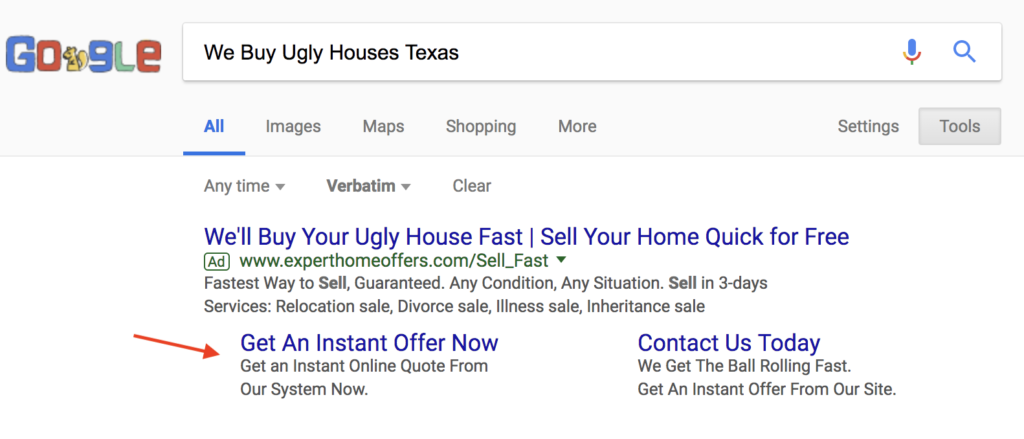 A callout extension is showing your phone number for a user to immediately call or text. These are typically the extensions that convert at a higher rate. It offers people an immediate solution to their problem instead of filling out forms on websites that look exactly the same in every market. Everyone uses InvestorCarrot. They do convert users however, you need to change the design or you wind up making users think you are the same company of the first website they visited. It doesn't make sense to use exactly the same thing everyone else is using or you will waste money and burn opportunities. The image below shows all the possible callout extensions you could run within your campaign.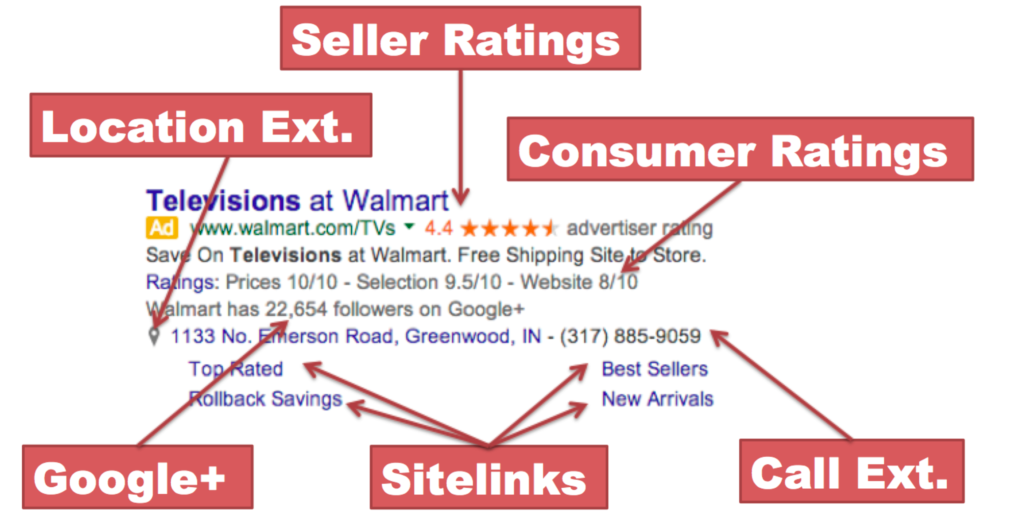 We also use the location extension but it doesn't convert. It helps show a user that we are local so address will show in your ads using our Adwords Package.
The Package
We are giving you the opportunity to supercharge your business with our Adwords Package. We paid many thousands of dollars to have our ads written and setup. They consistently bring leads without the need to send direct mail any more. I would rather spend $2.37 for someone looking specifically for me and what I do than to send a mail campaign on a hope and a prayer that typically cost around $1,000. You're soliciting owners without their permission. When you advertise with Adwords you have people soliciting you and your service. It makes a big difference in conversions. It also eliminates the angry phone calls from owners telling you to stop sending them mail.
By getting our Adwords Package and combining the intelligence of the AdWords management program you can be spending a total of $350 a month to get qualified leads with owners ready to sell. They clicked and made the decision to call you. That's the half of the battle most in the industry lose because they do the exact same thing everyone else does and wonder why they don't get results or paid.
Adwords Setup Done for You
Not only will we give you our complete Adwords setup but we will also install the campaigns on your Adwords account. All you have to do is give us your company information so we can setup the ads for your business and you are set. Well almost, you still need to sign up with the self managed program we talked about in our post about spending $250 with Adwords to maximize your opportunities. Computers are smarter than we are for sure.
All campaigns will be uploaded to your account within 72 hours of receiving your information. We will make every attempt to have them set up the same day as your information is received but remember, we're out there hustling for houses also. You will have the option to change anything you want once the campaigns are uploaded to your account. We use the same long description on most of our ads as our tagline. It's what we want users to understand about our business. We recommend you change the long description within your account so that you can have ads that look different than everyone else while telling the users important information about your business.
EarlToms does not manage Adwords. The Package are Ads to Use for Your Wholesaling Business Only. 
Get EarlToms Adwords Package
Make More Money
Spend Less Money
Easy Math
Summary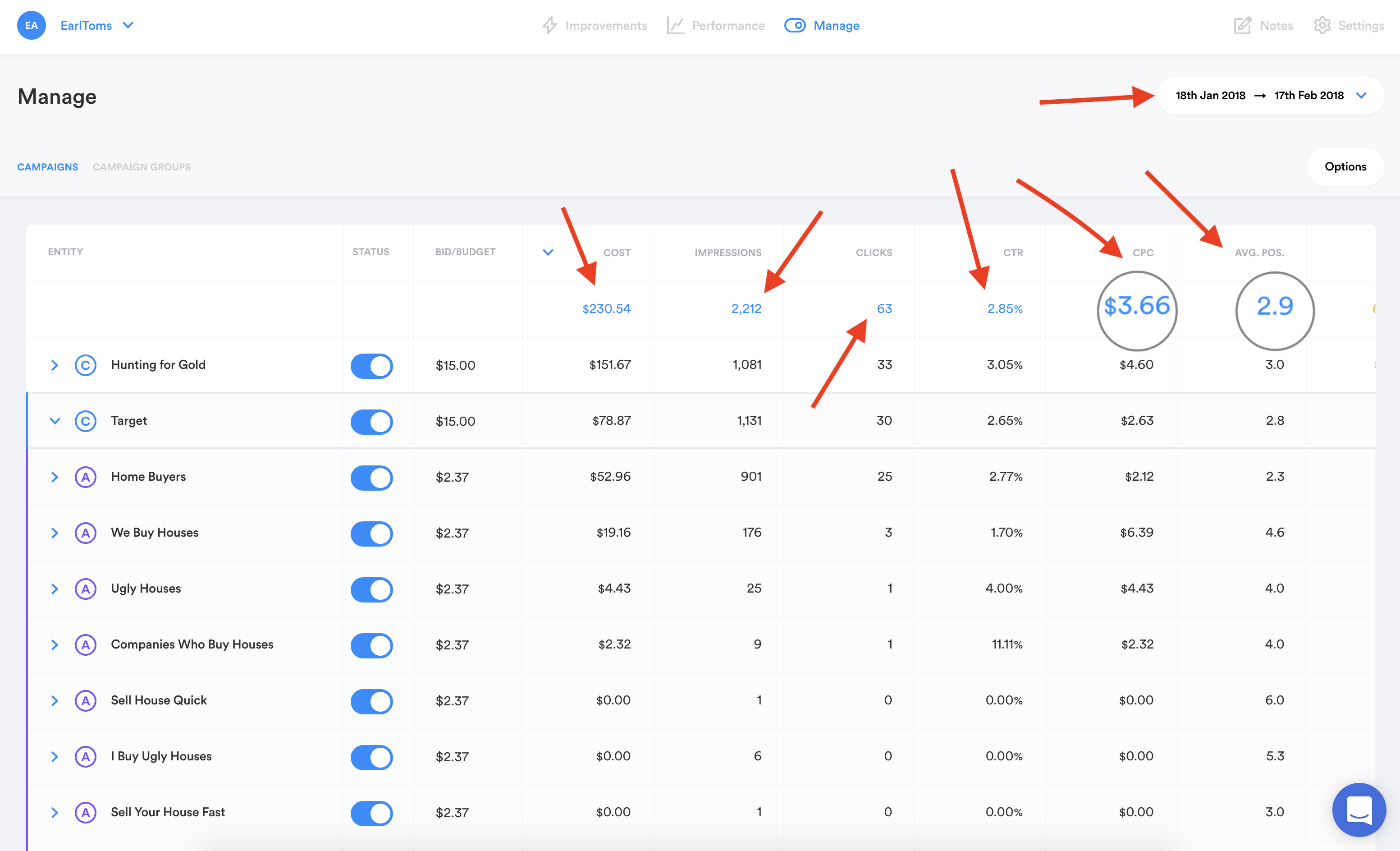 Author Rating
Brand Name
Product Name
Price
Product Availability