How to Create Effective Postcard Mail Campaigns to Find Motivated Sellers
It's not a secret that many in Wholesaling send postcard mail campaigns to find motivated sellers. At least they hope to find motivated sellers using postcard mailers. There is a better way to do it and that is what we are going to cover here.
Raise your hand if a guru or someone told you to send a mail campaign to a list with high equity or code violation then sit back and watch the leads come in. We're probably all raising our hand right now. Unfortunately, this is a strategy that doesn't work effectively. The average response rate for mail campaigns is 2%. Think about this – if you send 100 postcards only 2 people will call you. You can't survive with this type of throw it against the wall mentality. That's the cycle the gurus in the industry want you to be a part of because it keeps you coming back asking more questions and paying them more money.
So, how do you create an effective mail campaign?
Let's start with the types of list you can use to find motivated sellers.
List Types to Find Motivated Sellers for Mail Campaigns
There are many different types of lists you could use to target the owners in your area that are motivated to sell their house. Here are the most common:
MLS
Pre-Foreclosure
Foreclosure
Liens
Code Violations
High Equity
Vacant
Free & Clear
Bankruptcy
Divorce
Auction
Above are 11 possible situations to target to find motivated sellers. The one(s) you choose depends on your specific market. They also depend on your buyer pool. It's not enough to pick high equity and think those are the deals you'll be able to send a mail campaign and make the most money. They have equity, which means they have money. If you send to this list without any other factor you won't have much success. High equity alone isn't a motivated seller.
Instead of doing this way let me tell you the secret to find true motivated sellers to send your mail campaigns.
Steps to Target Real Motivated Sellers to Send Mail Campaigns
In full disclosure this approach will cost you a little more money upfront but save you time and effort.
Step 1 – Go to your source of list whether that be listsource or another provider. (We recommend you use more than one source.) Instead of only pulling one list you need to pull multiple lists. For example, download a list of high equity and code violations. You have to use at least two lists for every campaign to be successful.
Step 2 – Once you have these lists downloaded you want to copy/paste the lists so they are within the same spreadsheet. Each list needs to be on a separate tab for comparison. Now that you have each list on a separate tab you want to run a check for duplicates. If you have the same owner on both spreadsheets you know there is distress associated with this property.
Step 3 – Create a separate spreadsheet for the duplicates. Do not include it on another tab inside the same spreadsheet used to compare. This is your motivated seller list. It needs to be separate from the other records.
Step 4 – Mail your motivated seller list and see whether your response rate increased from the industry average of 2%. I imagine it will. After a week or 2 send the mail campaign for the high equity. A week or two after sending your high equity list you should send your code violations list. Do this for 6 consecutive months before you use another list and/or start another cycle.
Mail Campaign Cycle
Week 0 – Send Duplicates
Week 2 – Send High Equity
Week 4 – Send Code Violations
Continue this bi-monthly cycle for 6 months.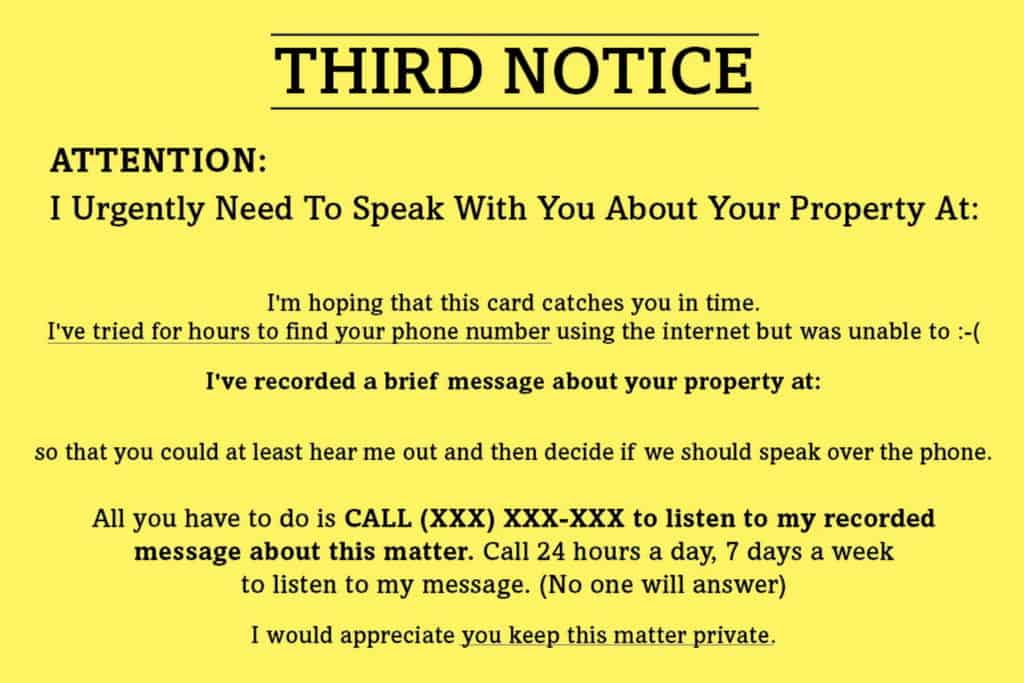 Final Thoughts for Sending Mail Campaign to Motivated Sellers
It's easy to send a big list and think you'll have a bunch of deals. Unfortunately, this isn't the reality of marketing. You have to target and be specific. It is said you don't have a deals problem you have a lead problem. This is a true statement. The duplicate mail campaign you are sending are for deals today. Individual high equity, code violation, and other list you may choose are for deals tomorrow. When an owner gives you their information but isn't quite motivated to sell today is when you put them into a nurturing cycle. We use ActiveCampaign for this reason. Every 30-45 days anyone that doesn't sell to us will receive an automated email asking if they ready or still trying to sell. This is done for one of 2 goals to be achieved. Either they sell us their house or they unsubscribe. If they don't do either they continue to receive an email. It's a set it and forget it way to stay in touch. Eventually, they will make a decision to either sell their house to us or unsubscribe. Until a decision is made, you don't make money.
Scrubbing Your List Makes You Money and Saves You Money
Make it a Habit