What are Webmaster Tools and Why You Should Use it
There is no doubt in order to rank in search results you have to use Webmaster Tools. Unfortunately, most wholesalers have never heard of Webmaster Tools. You can do all the SEO you want but without Webmaster Tools you'll never be seen in Google or Bing. Here's how to to setup and use Webmaster Tools for your website.
What are Webmaster Tools?
In easy to understand terms it's how search engines find out about your site and monitor updates on your site. Webmaster Tools are exactly that, tools. The most important thing in my opinion is submitting a sitemap for your site. This is all the code we don't understand. It's how search engines understand websites. They use what is called robots to crawl your site. Think of it as you reading a book. Google and Bing do the same thing to your website.
Setting Up Webmaster Tools
The setup for webmaster tools is simple. It follows your Google account so all you will need to do is sign in and you will be ready to start setting everything up. Google Webmaster Tools is now called Google Search Console if you search for more information. You can use the links below to sign in to your account with Google and Bing.
Google Webmaster Tools Sign in
Once you have signed in you will need to create a sitemap. Read more about how to set up a sitemap on EarlToms. This will tell Google and Bing about your website. Most use a plugin called Yoast that will automatically ping Google to tell them about updates on your site. You still need to login to Search Console and manually submit your site at least once a week.
It will take Google longer to crawl your site than Bing. I'm not sure why but Bing will list your site in search results a lot faster than Google. It typically takes Google 2 weeks to a month to crawl most of your site.
Fetch as Google
If it is the first time you are submitting a sitemap you can tell Google and Bing to fetch your site with their robot. You will see the status of how many pages, pictures, videos, etc that have been indexed to appear in search results.
In order to get Google to fetch your site you can click crawl on the left menu and click fetch as Google. You will need to fetch and render for both desktop and mobile.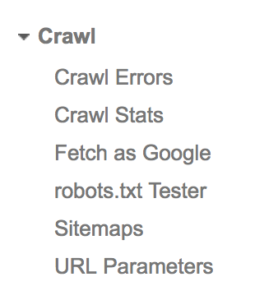 Search Traffic
On the left menu you have an option called search traffic. This is the area where you can monitor your keyword ranking, backlinks, errors, internal linking, and if your site is mobile friendly. Search traffic is probably the second most important aspect of Webmaster Tools in my opinion. This is where you can see if your hard work is paying off or if you need to try something else to rank.
For the search results you rank for please note that Google is not actually 100% accurate. It's baffling that it's search engine and program but other SEO platforms are more accurate. They are close so you'll at least have a ballpark idea how you rank without having to pay someone to monitor your rankings. Google has a delay in the results they show. You can change positions in 24 hours easily. That's why it's important to monitor this aspect.
This area also monitors links to your site, otherwise known as backlinks. You need to monitor this as well. If a link has a low domain authority you may need to disavow the link. That's more advanced but can be done. This is going to help you understand why your site is or isn't ranking in the search results. If you have a lot of lower domain authority links to your site it will pull you down in the search results. Hopefully you will only see high domain authority links with some Real Estate niche sites mixed in like Zillow.
Manual Actions
This is going to be a short section because manual actions only do one thing. They tell you whether or not you have a penalty associated with your domain. That may be a reason you don't rank higher. If Google imposes a penalty on your site for some reason it is very hard to have the penalty removed. Your site could have been hacked or appear to post spam links in comments of other sites. There is a way Google likes to see your site spread across the internet. Posting links to your site on other websites in the comment section will get you a penalty quick. Also, do not for any reason ever link to a .edu site. Those have been banned by Google because they are considered authority sites and people took advantage of the quality of the backlink.
Final Thoughts
Installing Webmaster Tools, now Search Console, into your daily business activities is a smart decision. Your online presence is what drives your leads. Without leads you don't close deals. In the online atmosphere things can change in an instant. You never know when Google or Bing may stumble across a signal of your site and change your ranking up or down. It's important to monitor your online presence with the search engines.
I didn't talk much about Bing but the setup is basically the same. They have much of the same terminology on their dashboard with a couple of things that are different. Instead of fetch as Bing it's called the Bingbot but does the exact same thing.
There are so many things to monitor online for your business but Webmaster Tools does simplify things a bit for everyone. Google has a lot of help articles and more than enough videos on YouTube. Make sure you incorporate Webmaster Tools on Google and Bing into your business.
Another Free Win for Wholesalers Provided by EarlToms
Help Us and Help Other Wholesalers
Pass it Around