Easy VSL – Video Sales Letters
You no longer have to pay hundreds or thousands of dollars to create video sales letters to send to potential investors. EasyVSL makes it as easy as you could imagine. It's been proven through market research that video converts more than reading. The reason is it engages users with changes, animations, and voice. That's why you typically go to YouTube when you are trying to learn how to do something.
Easy VSL Features
Check out everything EasyVSL does to simplify your Video Sales Letters. We are going to let them speak for themselves since they do a lot better job than we could explaining everything. EarlToms does use EasyVSL. We only tell you about things we use and that produce results.
Automatic Slide Creation – You can type your text, paste your text, or speak and it will convert your words into text for each slide. How easy is that?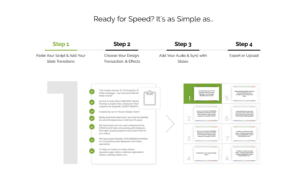 Insert an Existing Video – This is a great editor to allow a video to go into the video sales letter between text slides. Imagine watching a video with text and voiceover then a video starts playing of a walk thru at one of your properties. Once the video of the walk thru is over you start with text and voiceover again to close the deal.
Speech-to-Text – You can talk into your phone or computer to create text for your video sales letter or have someone do a voice-over of the text and embed it to narrate the sales letter as the slides change automatically. I love this feature!
Text-to-Speech – Your text becomes words automatically to narrate the video sales letter. You don't have to pay for a voice-over any longer. They have naturally sounding voices to narrate the letter. You can choose a male or female voice. This is an awesome feature that usually saves me about $40-$50 not having to order a voice-over from Fiverr.
Built-in Audio Recording – This is the feature that allows you to talk and create slides. It's also useful to use a sound or background music in your video. You can use your phone or computer to record audio for your video sales letters.
1-Click Video Syndication – This feature allows you to automatically post your videos to your YouTube, Vimeo, or Wisteria pages. You no longer have to manually upload the videos. EasyVSL takes care of that for you with this feature. This is another time saver the program offers.
Final Thoughts
Whether you have used a video sales letter in your business or not you should give it a try. It can be a lucrative option that is affordable. You always need to be doing at least one thing different from your competitors. If not, you get lumped in with all the other wholesalers checking boxing because a Guru sold them a course that worked 5 years ago. That's the issue with Gurus'. They only provide you with partial information so you always have to come back and buy more until you quit. Google Real Estate Guru's and see how many scam reports show up. That's not an accident.
One way we use EasyVSL is to create sales letter that can be mailed to potential investors. We are careful to send this type of mail to investors that actually buy more than one property. Check your courthouse records for these buyers then create an Easy VSL. Once you have created your video send a couple of mailers that contain the video and tell them about your company, services, or properties. This type of mailer is more expensive but they convert with investors with enough money to be a steady buyer for you. To find providers you can Google, Video Direct Mail. We get ours from Alibaba but there are many companies here that offer video brochure creation for direct mail.
Another Free Way to Sell More Houses Brought to You by EarlToms
Pass it Forward and Help the Next One in Line