Is an Investor Carrot Website a Good Fit for Your Business?
Before designing our own website we used an Investor Carrot website. We looked around to compare templates and functionality. We also used a Lead Propeller site but more for the courthouse records than for website leads.
Why Did We Use Investor Carrot?
This answer is simple, SEO. Lead Propeller is $99/mo at the time of this article but doesn't offer any SEO to their customers. In my opinion this is to be used for advertising only since you will struggle to rank in search with their templates. Alternatively, Investor Carrot has a content package for the same $99/mo. If you wonder why you don't rank higher in search it's likely a lack of content for starters. It's too difficult to rank 3 or 4 pages for all of the keywords, almost impossible honestly. Investor Carrot helps fix that problem for you with a little work on your end.
Since we can choose how often to post, which articles to post, etc., it gives us a better chance to rank for keywords since they will be variations. We start ranking collecting the low hanging fruit so to speak. Instead of We Buy Houses an article may rank for Who Buys Houses in Austin. Once you start sending signals to Google and Bing that people click on your result they begin to increase their trust in your site. Just make sure visitors look at more than one page. One page looks hurt a website.
You can also edit your keywords and snippets in Investor Carrot to have more control over what you rank for in search results. It's not a good idea to change regularly. Set it, forget it, leave it alone. Do not confuse Google.
What it Offers?
The basic plan is a good place to start for beginners. A single website is available in the package and comes SEO optimized. As you get a feel for how it works you can upgrade any time.
The middle plan is the one I had when using Investor Carrot. It never gave me any issues and because I maximized the SEO potential with the available tools and articles my website was able to rank on page one and page two for many keywords. I didn't have to hire an SEO company or a blogger to write content. We all need leads and I'll say it again. SEO with quality content is the BEST way to rank your website. Investor Carrot does all of this in my opinion for less than $100/mo.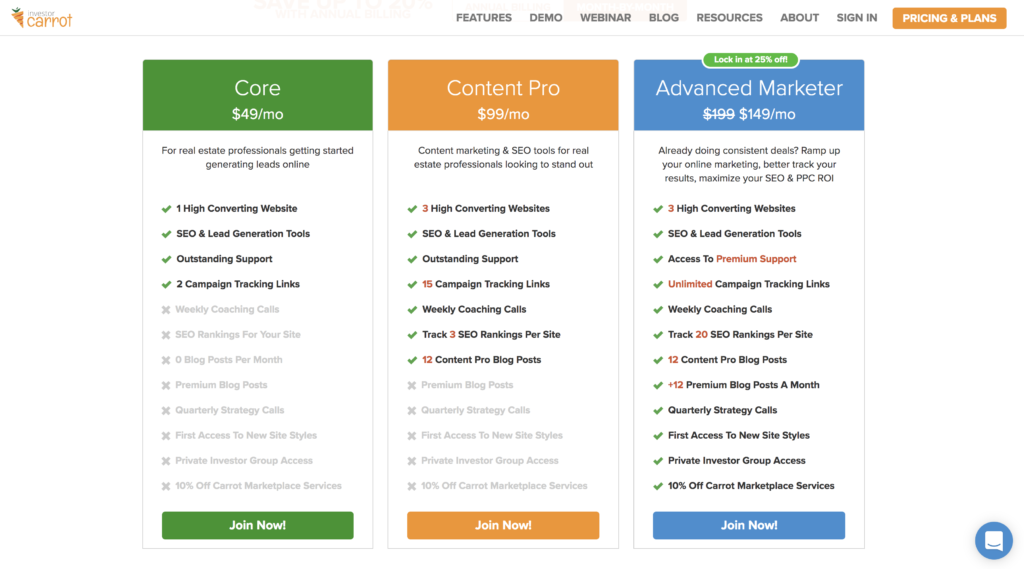 The large package I can't speak to with any amount of truth. I have no idea if the investor group or coaching is worth the extra monthly fee. If I base my opinion on performance of the plan I had it would lead me to assume it could be worth it for anyone that didn't mind spending a little extra each month.
Should You Use Investor Carrot?
If you are new or not technically savvy then Investor carrot may be a good solution for you. If you have the technical ability to design and maintain your own system it isn't a good solution for you. These templates are well designed for conversions.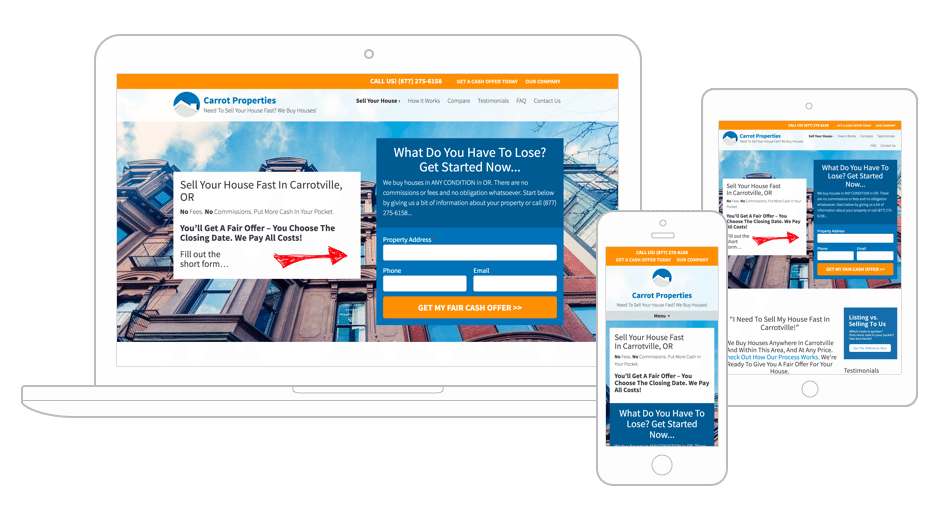 We recommend that you not get carried away signing up for the most expensive plan. You have a 30 day free trial available. Start with the basic plan the first 30 days until you decide if it's right for you. If you choose to stay with Investor Carrot then upgrade to the content plan and start publishing. It's not a good idea to publish a lot of content then cancel your site. Google frowns upon content disappearing from sites.
I can't say anything negative about Investor Carrot. I only stopped using them when it became necessary for my business to invest in a personal online solution for more control over the company brand. We would still be using Investor Carrot if not for that reason.