What is a Sitemap and Why You Need One?
What is a sitemap?
A sitemap is a file that you submit to search engines like Google, Yahoo, and Bing. The file is code that the search engines can crawl for indexing your site. Without your site being indexed there is no way to show up in any search results. It likely won't make a lot of sense to you but do it anyway. Here's what a sitemap file looks like…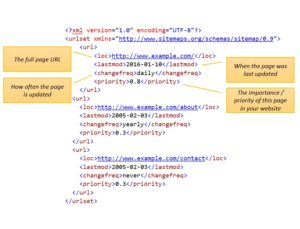 Unless you have knowledge of the code that is used to make websites look pretty this is a foreign language to you and me. It's not what we understand but rather they make it available for everyone to use without the need for understanding code.
Why You Need a Sitemap
The reasons you need to use a sitemap, and submit it regularly, are plentiful and mandatory. In the technology era we live in today almost everything runs off search engines. You can't get business online without a sitemap unless you are paying for ads. A sitemap tells search engines everything about your site. You are able to control what is included in a sitemap. You may not want a page indexed. You can set it to noindex and the search engines won't see it because it wasn't included in your sitemap. We use the Yoast SEO plugin because it's easy and we aren't experts. The Yoast plugin is free on WordPress, i.e., every investor website template uses WordPress.
What you can include in a sitemap…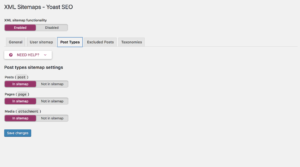 On every page, post, or image you can tell the search engines to include or not include along with overall topics like tags or categories. You can disable anything you don't want included. If you don't want to include a page you can remove it with a simple click on the page, post, or image. See the example below…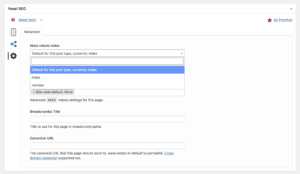 *NOTE – Do not publish anything until it's finished and no changes will be made in the future. Google does not like changing information once it has it. They are stubborn like that.
How to Claim Ownership of a Site in Google
In order to submit a sitemap manually to Google you will need to create a Search Console account, formally Google Webmaster Tools.
After you have created your account you will need to verify you have ownership of the site to manage it. You have multiple options but we choose a html tag. It's easier this way since so many plugins let you place tags, pixels, etc., to track activity on your website.
If you use Yoast, all investor templates use Yoast, you can log in to your dashboard on Google and your website to claim ownership.
Follow these steps to claim ownership and monitor your site in Google and Bing.
Open the Search Console dashboard, click add a property to the right.

You will be prompted to enter a website address with a popup after clicking add a property. Once you enter a website you will see a screen that gives you recommended and alternative ways to verify ownership. Click the alternative tab at the top. You will see a html tag that looks like this…

Copy the full line of code – <meta name="google-site-verification" content="bU5L14nQ0EXNlwGgKQKLS7aIfx1NKfaVmeyaWWhJQNk" /> – that it gives you for your site. This code belongs to xyz.com so it won't work on your site. Once you have copied the code snippet you need to paste in your site. Since we use the Yoast plugin we paste the code snippet into the line for Google and click save.
Once you save the code on your site you need to go back to Google's Search Console and click verify. You may have to wait a couple of minutes for Google to see the code. If you can delete your cache on your site it will help Google see it immediately. If not, you can keep clicking verify until it sees it and gives you control over the site.
How to Submit a Sitemap to Google
Now that you have a Search Console account you can submit a sitemap. On the left panel of the dashboard you will see "Crawl." You need to expand this area so you can reach sitemaps. Once you are on the sitemap page I recommend you test the sitemap URL before submitting it.

The most common addresses of sitemaps are
domain.com/sitemap
domain.com/sitemap_index
domain.com/feed (If you have a blog RSS feed on your site)
It typically takes Google about 2 weeks to start indexing your site. They crawl your site when they want to unless you schedule crawls with them. You need to be advanced to do this since it can completely mess up your search results.
We didn't address how to submit a sitemap to Bing because it is almost an identical process.
Final Thoughts
This is a free way to generate leads. It's not enough to have a website and think you will automatically be found by motivated sellers. It simply does not work that way. You have to do work to achieve this in search results. If you don't you can always pay for ads. I prefer the FREE WAY and so should you.